In between doing his day job and helping to deliver workshops with SAW, we managed to catch up with Edward Hems, research assistant at the John Innes Centre, to ask him our favourite SAW questions.
What is your favourite piece of writing at the moment?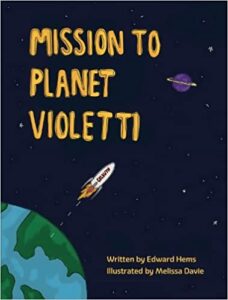 Well, I'm a little biased, but it's my own children's book [Mission To Planet Violetti] which was published last year by Walnut Tree Books!
I'd wanted to write a children's book and my partner who is a teacher, suggested there weren't that many science-themed children's books, so I decided to try and write one. The book is beautifully illustrated by my friend and colleague Melissa Davie.
Beyond that, I tend to read more non-fiction books across a range of subjects. Recently I've enjoyed reading some local history books written by Neil Story who is based in Norfolk.
You can buy Edward's book here.
What is your favourite piece of artwork?
I don't have a single favourite piece of art. I enjoy paintings that really capture the mood or atmosphere of the subject, whatever that may be. For example, at home, we have paintings ranging from snow leopards in the mountains to military aviation scenes.
My favourite art museum to visit would be the Wallace Collection in London.
Can you tell us your most interesting scientific fact?
I enjoy the opening of the SAW project where we ask children to count how many living things are in the room. Quite often the older children realise that there are microorganisms like bacteria in the room, but they never fail to be disgusted when we tell them they themselves are 'bacteria hotels', home to trillions of bacteria, as we have about as many bacteria cells, as human cells.
Don't believe us – Then check out this paper!
A massive thank you to Edward and his lab colleagues at the John Innes Centre who help to deliver and promote the SAW initiative.