SAW projects use diverse science topics and images, providing the perfect springboard for creative adventures
Working with SAW will:
Expand your network by working in cross-disciplinary teams
Reinvigorate your creative practise with new challenges and stimuli
Present opportunities to explore scientific topics and even do some science yourself
Capture project outputs that showcase your work to add to your portfolio
We are interested in hearing from artists and writers who would like to be involved with SAW. Please do get in touch!
---
Case study
A SAW classroom project on soil microbes
Project aim
For children to explore the diversity and importance of microbes in the soil through a one-day project involving hands-on practical science, poetry and art.
Project outputs
We created mini-lab books for the children to work through scientific investigations using microscopes and petri dishes for growing microbes; we used personification for exploring life as a soil microbe through poetry; and art activities that experimented with the concept of growing and becoming a colony.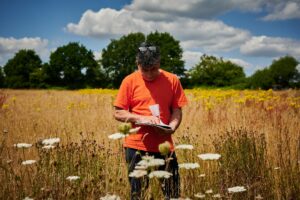 "I got involved with SAW as I was interested in how visual literacy can be used to interpret scientific ideas and vice versa.  I wanted the class to understand the differences between looking and seeing and show how creative ideas and formal structures allow a greater sense of freedom whilst working imaginatively.  The children listened well, concentrated, asked questions and appeared generally interested in the concepts behind the ideas.  Really enjoyed the day learnt so much from both the science and writing sessions and it was really easy working together which made for a nice atmosphere and a laid-back workshop."

– Jacques Nimki, Artist