For the last three months, we have had the pleasure of working with PhD student Kelly-Rose O'Reilly who has been doing her Professional Internships for PhD students (PIPs) placement with us.
Here, we take a few moments to find out a bit more about her and ask her our top three questions.
Hi Kelly! Can you tell us a little bit about how you came to be a SAW intern?
As a second-year PhD student in Matt Hutchings's lab at the John Innes Centre, I study soil-dwelling bacteria and harness their potential to produce novel antimicrobials. During my PhD, I participated in a primary school SAW day; It was during this event that I discovered the SAW trust and the impactful work they do.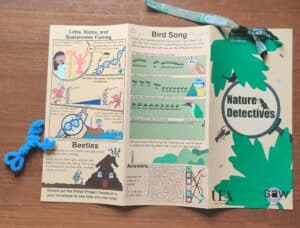 Intrigued by the positive impact SAW was making, I then volunteered with them at the Royal Norfolk Show, where I had the pleasure of meeting Jenni Rant and her intern, Nathan Mcconnell. Engaging with Nathan and seeing his enthusiasm for his placement at SAW opened my eyes to SAW being a PIPs opportunity.
Choosing SAW was a decision fuelled by my desire for a fun and engaging platform to cultivate my science communication skills. I have always been captivated by science communication (sci-com) as a means to bridge the gap between scientific advancements and the general public. The prospect of spending three months immersed in the dynamic world of SAW would undoubtedly solidify whether sci-com is a potential path for me beyond my PhD.
Moreover, I recognized the immense value of honing my ability to communicate complex scientific concepts to broader audiences, fostering meaningful connections with the public, and promoting scientific literacy. SAW's impactful work aligned perfectly with my aspirations, providing a unique opportunity to grow both personally and professionally while making a tangible difference in the world of science outreach.
What do you enjoy doing when you aren't busy in Matts Hutchings Lab?
I am quite active, training to complete my first half marathon and participating in pole fitness as a trained instructor! Other than that, I read fiction books and love crafting absolutely anything.
Lastly, can we ask how you've found working with SAW?
This placement has been an incredibly valuable experience, offering both personal and professional growth. Stepping away from the rigorous laboratory setting provided a refreshing change, while the challenges and rewards I encountered during this opportunity have been truly fulfilling.
One aspect I enjoyed the most was the trust I received during the placement. Jenni trusted me with the large job of designing and printing 500 leaflets for the Latitude Festival. I love to draw, but had never done anything like this before, though I knew I was capable. She trusted I would deliver, and I didn't let her down! Great feeling! This really has improved my self-confidence in a working setting.
You need opportunities like this to prove to yourself and others you are capable.
Kelly-Rose's  Top Three Questions!
1. What is your favourite piece of poetry?
The Loch Ness Monster's Song, By Edwin Morgan.  I don't often read poems, but this one always makes people giggle.
2. What is your favourite piece of artwork?
Me and kazou, by Matt Layfield. It is sinister but flows beautifully. It's by an upcoming artist and close friend of mine.
3. Can you tell us your most interesting scientific fact?
Lobsters pee out their faces!