This July we returned to Latitude Festival to run activities in the kids area's science marquee and this year it was a hot one.  With temperatures above 30°C in the days leading up to the festival, the site was dry and dusty, meaning our kit (and us!) needed daily cleaning!
This year we went with the theme of microplastics in the environment and worked with Dr Andrew Mayes and team from the University of East Anglia, Cefas (Centre for Environment, Fisheries and Aquaculture), Precious Plastic East, the Food and Farming Discovery Trust and colleagues from the John Innes Centre.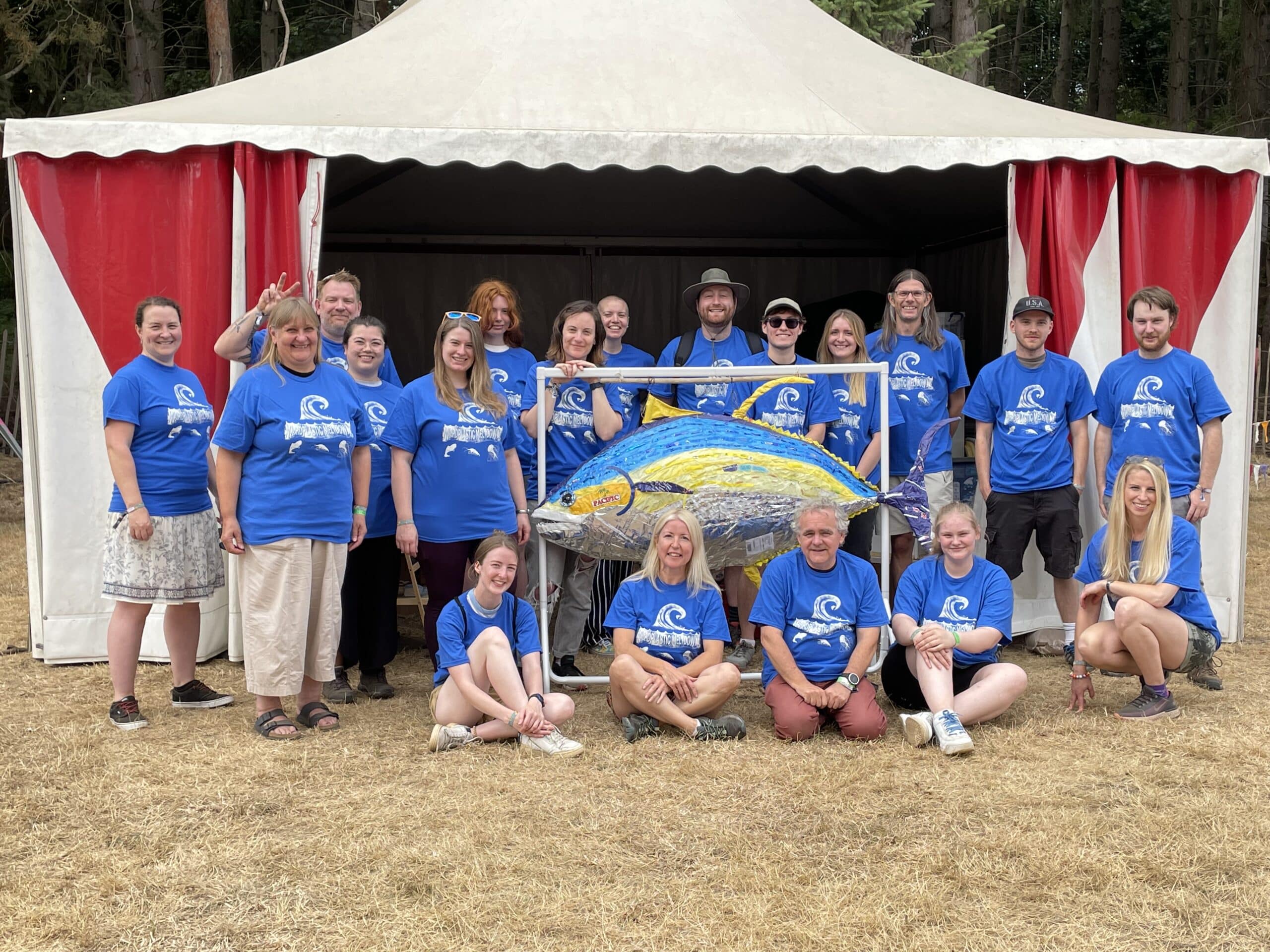 The activities
Our activities, that ran as a series of short workshops, began with a lunchbox challenge where children had to race against the clock to sort items found in a typical child's packed lunch into 'easy to recycle' or 'hard to/not recyclable' bins.  This was designed to get children thinking about their interaction with plastic and to demonstrate how many things are hard to recycle.  We then looked at some examples of how they could reduce the amount of plastic waste in the lunchboxes by opting for alternatives such as wooden cutlery, paper straws and bags, reusable containers and beeswax wraps instead of clingfilm.
This led nicely into our second activity where the children were invited to make their own beeswax wraps to take home.  We had an array of beautifully pattered cloths for them to choose from, which they sprinkled grated beeswax over for us to then melt with an iron.  The children thought the grated wax looked like cheese and sprinkling it on the cloth was like making a pizza!
The next activity focused on the persistence of plastic in our environment and children were tasked to use sieves to find an array of plastic waste such as shredded bags and gloves, bits of fishing net and nurdles in a sandpit.  This was very popular as the children enjoyed hunting around to see what they could discover and the range of items enabled discussions on the sources of different types of plastic that you can typically find on beaches.  Many parents were very interested to learn more about nurdles, the term used to describe tiny plastic pellets that are shipped around the world as the primary material used to manufacture all plastic products.  They remarked that they had seen nurdles very often on beaches but didn't know they were plastic and a serious type of toxic waste.

Microplastics
Children were then encouraged to take a closer look at the items under dissection microscopes to see how these items break down into ever smaller pieces as they are weathered in our environment to eventually become microplastics.  We were then able to show them how scientists are using Nile Red Dye to stain tiny particles of microplastics to detect them in water samples.  We set up two cylinders of beach sediment and water containing dyed microplastics, one cylinder was in the marquee and the other was in a 'dark lab' created out of rose arches and black cloth.  Children were able to put on orange safety visors and go into the dark lab to shine blue crime lite torches into the cylinder to see the dyed microplastics light up!
This enabled us to talk about the problems microplastics are causing in the ocean for marine life.  Some children had seen images of sea creatures tangled in fishing nets or injured by bigger plastic items but they weren't so familiar with microplastics getting into food chains through animals such as filter feeders.  Cefas had a range of plush toy sea creatures which helped explain the story!

A new purpose
Finally we wanted to finish the sessions on a positive note and so the final activity focused on how plastics that are already in existence can be collected, shredded, melted and made into new objects (such as the seat pictured below that was made by Precious Plastic East from melted down milk bottle tops).  Children were given options on what they would like to make to take home from badges and fridge magnets to keyrings.  Some items were made from milk bottle tops like the ones shown here, for others the milk bottle tops were melted to become flat discs and there was also the option to use some recycled shredded PLA to melt into multicoloured discs using a sandwich toaster.  The craft activity was very popular and enabled us to chat to the children about the exciting possibilities ahead.
Initiatives that increase the value of waste plastic as a versatile material to collect and make into new products are paving the way for better investment in collection systems that ensure less plastic ends up in landfill or as litter in our environment.  Alternative materials like PLA (Polylactic Acid), used for 3D printing and commonly made from plants such as corn starch or sugar cane can be disposed of through high temperature composting, where PLA objects that aren't too large or thick can break down into harmless small molecules that are eaten by the bacteria and fungi in industrial composters in around 6-8 weeks. New materials and technologies give hope for a greener future so inspiring the next generation to take an interest in these topics is an important part of the process.
Extra bits!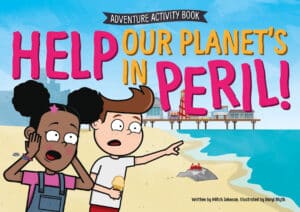 The science tent is always popular and so we wanted to have a few things to entertain children who were waiting to come in (or for parents waiting for their children to come out!). We were delighted that Precious Plastic East brought along their 'Bottle Top Drop' arcade machine, inspired by the 2p machines found in most seaside amusements, for children to play.  We also had displays about the work done by Cefas and links to their free education materials, QR codes for finding out more about topical issues such as Andrew Mayes research on plastics in tea bags and we were also giving away free copies of our summer adventure book which is set at the beach and features a section on microplastics.
We are very grateful to the team for all their hard work in making the Microplastic Meltdown workshop a success and to Festival Republic for inviting us to Latitude 2022!