For the last three months, we have been lucky enough to have a new intern from the UEA, PhD biology student, Molly-Kay (aka MK).
It's been a pleasure working with MK and here, she reflects on her time with us.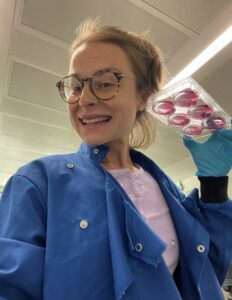 I'm a third-year PhD student on the NRPDTP programme at the University of East Anglia, researching the roles of circadian rhythms in cartilage. As part of our training, DTP students are required to complete a 3-month PIPS placement in an area separate from our study. Going into my PhD I knew I wanted to use my PIPS to get involved in science outreach and anything creative!  
I was really fortunate to spend my PIPS working with the SAW Trust at the John Innes Centre, it ticked all the boxes!
I joined the SAW team just in time to contribute to the 2023 edition of their famous adventure activity book. I was keen to get involved in this project because of its outreach potential and I knew I'd have the chance to develop my skills as a science communicator.  
The theme of this year's book was the Norfolk and Suffolk broads. And, as a broads' novice, it was refreshing to start my PIPS learning about a new topic. 
I was given the awesome task of creating the book's four interactive science challenge sections which involve turning 'science jargon' into a fun and accessible resource for young children.
Over the 12 weeks, as well as working on the book, I was able to experience a range of outreach activities including SAW workshops in school, PGCE SAW training days and behind the scenes planning for events like next years Norwich Science Festival.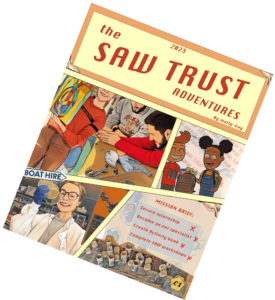 Before starting at SAW, the prospect of working with a class of 10-year-olds was quite daunting but the adaptability of the SAW framework made slotting into the team easy peasy!
SAW workshops are broken down into three sessions (science, art and writing), all linked by a collection of abstract science images. It was cool to see the children and PGCE students submerge themselves in the science imagery and carry it across into their literacy and art.  This stage of my pips highlights the importance of diversifying science communication and I've left feeling more confident in my own ability.  
I've learnt a lot about the importance of outreach in our local community and I'm looking forward to implementing this in my work. I found the placement rewarding and a refreshing change from circadian rhythms!
Working with SAW has been an awesome opportunity and I'm really proud of the work we've achieved over the 12 weeks.   

– MK, SAW intern.
We have loved working with MK and wish her all the best in finishing her PhD – hopefully, we'll get to work with her again in the future!