My journey with the SAW Trust was truly excellent, rewarding, and eye-opening!
Working closely with the incredible Jenni Rant, we worked together to design a workshop for the much-anticipated Latitude Festival 2023. But that wasn't all; alongside this, we had the pleasure of organizing and delivering smaller yet impactful events, such as the SAW days at primary schools.
These immersive sessions combined Science, Art, and Writing to ignite curiosity and creativity in young minds. The organization required for these events was intense, but the results were beyond gratifying. The kids' smiles and feedback as they left the SAW days, or the Latitude tent, were heart-warming.
For Latitude Festival, I designed a leaflet for over 300 children to read and complete the activities. I learnt so much about the design process and the challenges that come with it. The leaflet looked fantastic, and I am very very proud of it.
At the festival, we worked diligently in the kids' tent to deliver the workshop we had passionately designed with the creative minds of three UEA research groups (Martin Taylor, Simon Butler, and Kelly Edmunds). It was a 30-minute, rotational workshop learning about bugs, birds, and lobsters! More specifically, how we count bugs, measure bird song, and determine a lobster's age.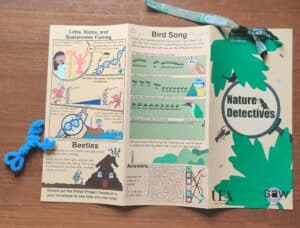 Once the work was done, we enjoyed the rest of the festival! It was an unforgettable end to my placement.
Reflecting on my time with the SAW Trust fills me with immense gratitude and fond memories.
The experience showed me the profound impact that creativity and education can have on young hearts. It reaffirmed my belief that small actions, when carried out with passion and purpose, can bring about significant and positive change. From cutting onions and potatoes in the office to drawing lobsters in nappies – it all helped in the end!
My internship opened my eyes to the large workload that underpins every successful communications event, whether it's related to science or not.
One of the most rewarding aspects of my time at the SAW Trust was the people I had the privilege of working with, especially Dr Jenni Rant.
From day one, they welcomed me and their passion for making a difference was contagious. I am certain I will stay in contact with the wonderful people I met along the way. I couldn't have asked for a better placement.
We want to thank Kelly for all of her enthusiasm and hard work whilst she was working with us, especially for her incredible illustration skills!