Here, SAW intern Kelly-Rose O'Reilly reports on SAW's latest visit to the fantastic Latitude music festival.
This year SAW collaborated with research groups from the University of East Anglia (UEA) led by Dr Martin Taylor, Dr Simon Butler and Dr Kelly Edmunds to create an engaging and informative workshop for our usual spot in the kids area at Latitude Festival.
The primary objective of this workshop was to introduce children to the fascinating world of research conducted in the School of Biological Sciences at UEA. This year's theme was 'Nature Detectives,' focusing on birds, bugs, and lobsters. The children's enthusiastic response was heart-warming, and we were thrilled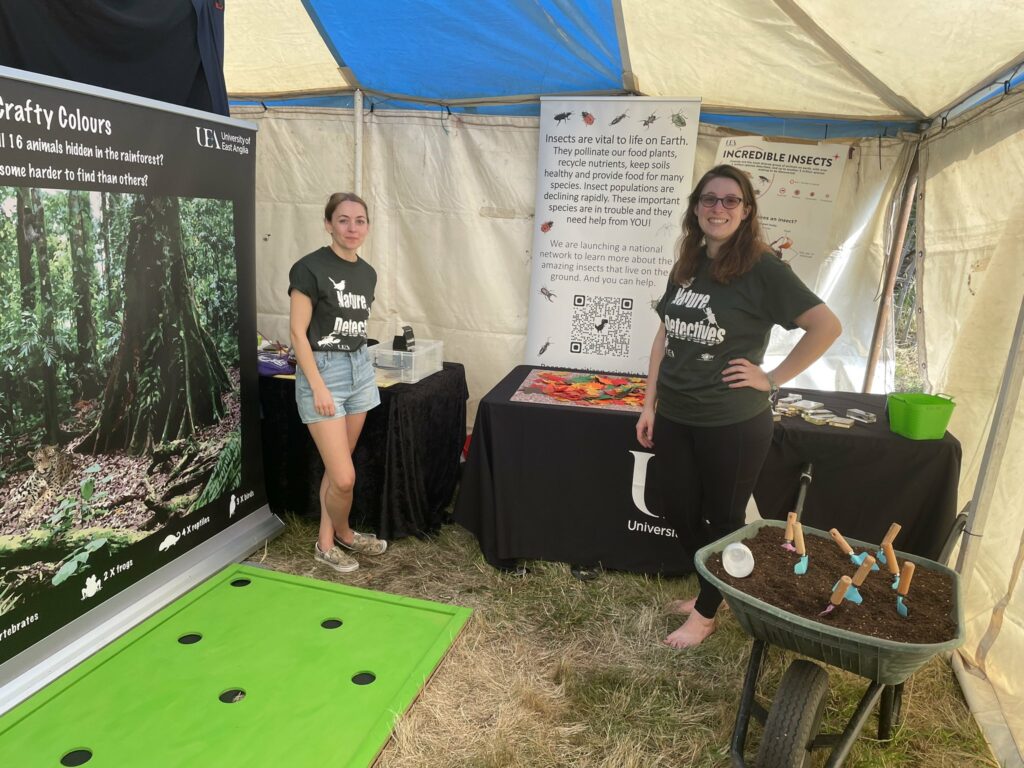 to inspire over 300 young minds and many parents too!
For our bug segment, we introduced the young participants to the vital topic of declining UK beetle populations, likely influenced by global warming. The children were shown how to build pitfall traps using a wheelbarrow filled with soil (kindly donated by the John Innes Centre), a trowel, and a cup. Their mission being to build these traps at home and report their findings to a citizen science project through the Rain Beetles website. The excitement peaked when they engaged in a thrilling race of robot-bugs on a plank with holes in it, made to mimic the pitfall traps.
In the bird song workshop, the kids entered a special 'sound lab' where they were introduced to spectrograms— graphs that visualize sounds. They used instruments first to see what the sounds looked like on the screen, then used cuddly toy native birds that emitted genuine songs when squeezed, to see what the bird songs 'looked like' on the spectrogram. Research in Simon's lab is looking into the impact soundscapes have on people's wellbeing and mental health.  Visitors were asked to vote for their favourite bird song among three recordings that included low diversity bird song, high diversity bird song and bird song with human interference, like traffic noise. The results will be fed into part of a larger National study.
Lastly, our Nature Detectives learned how to age lobsters! They learnt that a lobster's age cannot be determined by its size, instead, you must look at the DNA and the amount of methylation occurring. The more methylation, the older the lobster. This was a complex concept for young children, but we made it accessible through our 'Lobs and Blobs' activity. Using plastic lobsters of various sizes, each with its age and DNA etched with a certain number of blobs, we challenged the children to arrange the lobsters from youngest to oldest.
The 'aha' moment struck when they realized the lack of correlation between size and age, but a clear correlation between the number of blobs and age, highlighting the significance of 'blobs' in age determination. We taught them that knowing a lobster's precise age was important in sustainable fishing so that younger lobsters can be thrown back to sea to breed. And of course, they couldn't resist measuring themselves against a model of the largest lobster ever caught, accompanied by intriguing fun facts, such as lobsters peeing out of their faces!
Personally, I designed a takeaway leaflet for the children, recapping the workshop's key points and including fun activities for them to explore the key messages further. Collaborating with dedicated researchers, I assisted in turning their ideas into a reality, within the workshop's time frame.
The teamwork between the SAW Trust, UEA research groups, and myself resulted in a memorable and impactful workshop at Latitude Festival 2023.
By immersing the children in the fascinating world of research, we hoped to ignite their curiosity, inspire their interest in science, and create lasting memories of fun-filled learning. The joy and smiles on the faces of all the children who participated, made this experience immensely rewarding and reinforced the importance of making education engaging and accessible to young minds.