An international exchange!
In 2012, Bo Wang from the Reenway Group in Shanghai learned of the work of the SAW Trust and immediately saw the benefits that a program like this could bring to Chinese children.  After discussing the idea of a collaboration, we were invited by the Tianyang Foundation and the Xuhui Education Bureau to visit Shanghai to launch SAW China!
This was the beginning of a very enriching partnership that provided new ways for teachers and children to develop their creativity using the SAW philosophy, which has evolved to suit the Chinese education system and culture.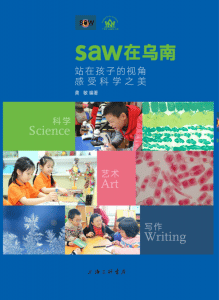 Following the delivery of our very first training workshop in Shanghai, SAW training materials have been translated into Chinese for sharing more widely.  A focus group of teachers at Wunan Kindergarten continually experiment with the SAW methodology, adding new topics and lesson plans to SAW books. Teachers from across the Xuhui district are invited to work with Wunan and attend training workshops to learn the SAW philosophy and introduce the practice to new schools.
Click to download SAW China. Written in Mandarin, this book showcases how the SAW initiative was embraced by teaching staff at Wunan and the Xuhui Education Bureau to grow into a valued component of their curriculum.
The benefits of SAW
SAW Projects are proving to be extremely popular in Shanghai.
Most projects involve parent volunteers working with teachers, from the initial planning stages to delivering projects in class. This is a fantastic way of giving parents a positive role in their children's education and strengthens the teacher-parent relationship.
Since establishing a SAW headquarters at Wunan Kindergarten we have been fortunate enough to be invited to present a variety of workshops to heads of schools, teachers, and education specialists across the city.  Our workshops aim to show participants how they can deliver SAW lesson plans and activities within their school to disseminate the SAW approach.
By working with colleagues from Norfolk County Council's International School Partnership Programme, in subsequent trips to Shanghai we have taken teachers from schools we work with in Norfolk to lead SAW sessions in their partner schools.  These schools have then hosted teams of Chinese teachers visiting Norfolk to reciprocate the learning.  These trips enable teachers from different cultures to exchange and showcase ideas for SAW topics to inspire a broader range of experiences for pupils in China and the UK.  Teachers from Norfolk were particularly impressed by a SAW project at Wunan on the topic of buildings and architecture that utilised blocks of tofu for exploring science and numeracy!
The SAW project has had a great impact on traditional Chinese education philosophy. It gives an innovative approach to young children, teachers, and parents to understand science, art, and writing. As a volunteer, I enjoyed it with the students very much.

Bo Wang from the Reenway Group in Shanghai
Sharing SAW experiences in China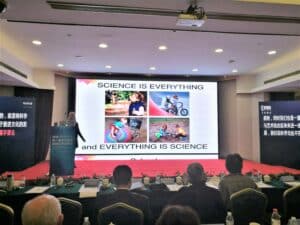 The development of SAW China under the leadership of Headteacher Mrs Min Gong and her team at Wunan Kindergarten, supported by the Xuhui Education Bureau has been awe-inspiring.  They have developed many new SAW topics, published books and even built a dedicated SAW classroom (pictured), a feast for the eyes for any science enthusiast or early years practitioner.  It's also one of the pupils favourite places to learn!
We were thrilled to be invited to present SAW at a large event in Shanghai –  the Learning Competency; Project-based Learning Conference which took place in November 2018.  Together with teacher Crystal Rodriquez from West Earlham Infant School and Headteacher Catrin Parry-Jones from West Earlham Junior School, Norwich, UK,   Min Gong, Headteacher at Wunan Kindergarten and our translator Dasheng Zhang, we took to the stage to present SAW to a very large delegation of people from across the international education sector. Attendees included Raymond L. Pecheone from Stanford Graduate School of Education, Sirpa Eskela-Haapenen from the University of Jyväskylä, and Lingyuan Gu, former deputy director of Shanghai Academy of Educational Sciences.
International collaborations are incredibly enriching, they enable us to learn and develop our practice and we've made many lasting friendships along the way!