In 2021 we started something big. With a team of scientists, an author, and an illustrator, and with the help of a carbon-neutral printing company, we set out to try and help combat the reduced level of science education school children had received due to COVID-19 lockdowns.
How did we do this you ask? By making a science-themed storybook that was fun, accessible, and free!
We created the first SAW adventure activity book, 'Help, there's an alien in my park!', split into 6 chapters, designed around different scientific themes being actively researched here at the Norwich Research Park. The story featured characters Ben and Jaz who meet an alien called Fizz who has crash-landed on Earth and it has a host of hands-on science activities weaved throughout for children to do at home with little to no support from adults.
The best bit – with the support of Norwich Research Park and funding from Anguish's Educational Foundation, The Bedford Memorial Trust, the John Innes Foundation and others, we were able to provide this book to local schools for free, so that students could take them home to do over the summer holidays.
The book was a huge success; we were delighted to see children interact with it and grow as independent learners. This year we decided to create another book, this time themed around a day at the seaside!
As with last year's book, the story was divided into chapters designed around a scientific research theme. This year's topics include microplastics, green energy, coastal erosion, and nutrition.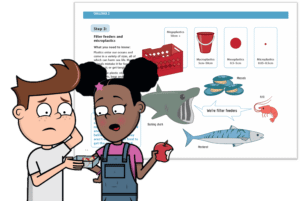 With the help of writer, Mitch Johnson, and illustrator Daryl Blyth, the story brought science into the home and enabled children to learn new things by taking part in activities like creating their own filter-feeding fish to learn about microplastics in the ocean and racing their own balloon cars while learning about green energy. Our new book was delivered to 34 schools, meaning that 4,353 students in years 4 and 5 s got to take books home for the summer holiday.
Acting on teacher feedback received last year, we decided to introduce the book differently this year by getting them into schools earlier so that teachers could begin the first activity with their class. We also went into some schools to give out the book in special assemblies to help children engage with the story before the summer holidays to give them more confidence to keep going with the challenges.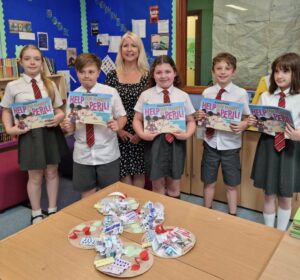 Feedback is extremely important to us here at SAW and so we held a prize draw that offered one of the schools that provided us with feedback, a free SAW workshop for their class. We are very happy to announce that the prize draw winner is Tacolneston Primary! – we are looking forward to visiting and running their free SAW workshop soon.
Once again, we would like to say a special thank you to all our funders for their continued support.