We've loved developing our leading characters Ben, Jaz and Fizz in our Adventure Book series and we think it's fair to say that Fizz the Alien has become a fan favourite!
When thinking about a possible fourth book in the series, we decided to do things a little differently – we asked our young readers for their ideas on where the adventure could take the trio next. They told us that Fizz should take Ben and Jaz into outer space! 
Not wanting to disappoint, we are fundraising to try and make the book a reality and out and about meeting amazing people working in the space sector in the East of England who might be willing to help with the science content.
Institute of Astronomy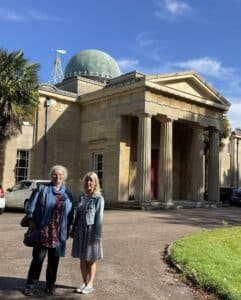 My first trip was to see Dr Helen Mason from Cambridge University, an astrophysicist whom I've had the pleasure of working with on SAW projects in the past and who runs her own cross-disciplinary programme called SunSpaceArt.I went over to the Institute of Astronomy to see her and to meet her colleagues, Dr Matt Bothwell, an Astronomer and science communicator and Hannah Strathern, an outreach facilitator who run a school project called AstroEast. Helen, Matt and Hannah were very excited by the prospect of an adventure book on the theme of space and were very happy to be involved and to extend our reach into Cambridgeshire schools.
Space East
As part of the aims of our books is to show children the range of STEM careers available on their doorstep, my next mission was to identify space researchers and businesses nearer to home.
I met with Stuart Catchpole who heads up Space East on the Norwich Research Park which is the UK's newest space cluster that brings together leaders from across industry, research and Government in the East of England to develop and champion exciting new opportunities in space technology.
It was great to hear from Stuart about the range of specialists working on space-related innovations in the East and he put me in touch with a whole host of people to contact.
I was amazed to hear that there is a company called Gravitilab based just 20 minutes from my house who are launching rockets as a service for research customers enabling them to send up different samples to test how they behave in microgravity!  I had a great chat with them and we came up with loads of ideas on how Ben and Jaz could prepare themselves for zero gravity.
Adastral Park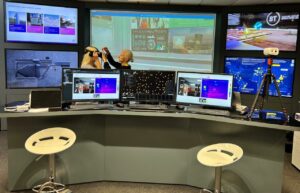 Next I made a journey down to Suffolk to join Stuart for a visit to Adastral Park, a cluster of high-tech telecommunication and technology companies and I was blown away by their showcase centre.
I'm not really a person who keeps up to date with the newest advances in technology so this was a real eye-opener.
A trip into their immersive classroom brought learning about the International Space Station to life,  I had my first experience using a VR headset and I even saw Stuart get transformed into a hologram in a box!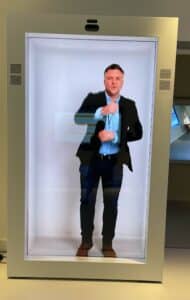 Very quickly you could see how satellite technology, 5G and the Internet of Things (devices with sensors, processing ability, software and other technologies that connect and exchange data with other devices and systems over the Internet) can create a very powerful communication network that will enable advances in space exploration but also bring about real benefits to how we live on Earth.
It was very heartening to see the number of innovations being born out of the East of England and a really positive career route for young people.
It's Rocket Science Discovery Centre
Before returning to Norfolk I popped in to see Debbie Ball, who runs a science communication company called Kinetic Science and who has recently opened a discovery centre not far from Ipswich called It's Rocket Science! – What an amazing place!  The main picture in this blog is a snap I took of one of the corridors in the centre.  Children who are lucky enough to visit are enrolled in an 'astronaut training programme' and become space cadets as they embark on a whole host of space-themed activities.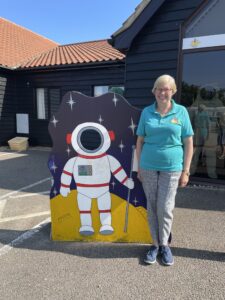 I returned to Norwich feeling excited at the prospect of working with experts from across the space science and technology sector to create a new adventure activity book to help children learn more about the Universe and show them that it is relevant to all our lives and accessible as a career from even the most tiny rural village.
My next challenge is to raise the funds to make the book a reality!