Last month, we were delighted to return to the University of East Anglia to run another SAW training workshop for PGCE students.
Delivering sessions for the primary team of the UEA PGCE cohort, our workshop ran for three days and we welcomed over 80 soon-to-be teachers.
The theme of our workshop this year was water, pulling in science, art and writing activities from tried and tested SAW projects that we have run many times in classrooms.   Joined by SAW intern Molly-Kay Bailey, artist Chris Hann and writer, Mike O'Driscoll, our workshop aimed to help develop the knowledge and confidence of the students to work across the disciplines to inspire them to deliver SAW-inspired educational activities throughout their careers.
Each day began with an introduction to a set of water-themed scientific images and then a range of hands-on science activities that explored buoyancy, water displacement and density.  The students particularly enjoyed a competitive surface tension activity that had the whole room captivated!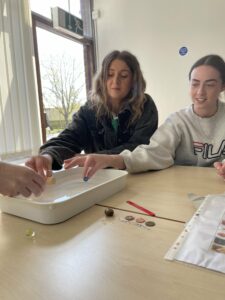 One of the great things about SAW lessons is that many of the science activities can be carried out without any specialist equipment, and our water lesson plans are a great example of this.
In between each science activity students were able to discuss practical questions on how they could deliver the activities, and others like it, within different classroom settings. This included the use of alternative equipment, accessibility, follow-on activity ideas and links to the curriculum.
Following on from a morning of science activities, the students had a go at writing science-inspired poetry using both the science images and concepts from the science session. With help from Mike, everyone created one-word poems and kennings to get warmed up and then after a bit of brainstorming around the images, set off writing their own free verse poems. With writing often being a 'marmite' topic with children, having the students actively experiencing the writing session in the way that children would approach it during a SAW project, helped to show how this approach can engage everyone with a writing task and generate a set of unique poems.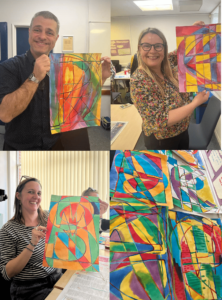 Each day ended with a plethora of art activities inspired by the day's scientific images, with Chris giving a short tutorial on how to deliver them in the classroom. Some highlights included a firm SAW favourite of Brusho™ on ice cubes and a wax-water resistance piece in the style of Jasper Johns.
"A huge thank you for a brilliant few days!" UEA PGCE representative.
We loved delivering the three workshops and we hope we have inspired these new teachers to deliver SAW-inspired experiences and spread the initiative throughout their career and beyond.