In collaboration with Kath Griffiths (Norfolk Library and Information Service (NLIS)) and Professor Neil Cooper from the School of Psychology at the University of East Anglia, we have developed a series of workshops entitled, 'You can't judge a book by its cover.
Our project is part of the 'Engaging Libraries' scheme and consists of a series of 15 library-based SAW workshops that invite a cross-section of the public, both young and old, to embark on the process of self-reflection and see how this can help us to understand our mental health and well-being.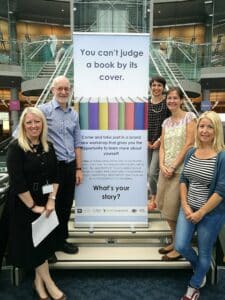 During the workshops, under the guidance of Neil, participants were introduced to a Q-sort psychology activity to explore their personalities.  Then with support from the artist, Becky Tough (artpocket) and writer, Heidi Williamson (heidiwilliamsonpoet.com) develop their own book covers using mixed media arts to create personalised front covers to express themselves and creative writing to generate back cover biographies that are either aspirational, fictional or real.
Our aim for each workshop is to allow the participants to reflect on themselves and their well-being using the Q-sort methodology, in a safe and neutral environment, whilst producing a lasting snapshot of the local communities' sense of well-being, at a given moment in time.
The series of workshops concluded with the 'books' designed during the workshops (which are all anonymous) being displayed as a collection during the Norwich Science Festival (NSF), within the Norfolk and Norwich Millennium Library (NNML) for the general public to view.
The workshop series has welcomed public groups, established groups, and sixth-form students, as well as scheduled groups of primary and junior school groups.
This exciting, science-based project has been kindly funded by the Carnegie Wellcome UK Trust.