We were delighted to work with teacher Lucy Livermore and her year 5 class at Tacolneston Primary school to deliver a SAW project that explored our planet's polar regions and plant adaptations.
Lucy's class were picked as the winners of our prize draw for schools who returned feedback on our second summer activity book, 'Help, our planet's in peril!'.
To set the scene for the day, our polar quiz got the class thinking about plant life in freezing environments. Many students were surprised to learn of the many adaptations plants have made to survive in the harshest places, including the bizarre silky fibres that resemble cobwebs called 'woolly farina', spun by an alpine plant to cover its leaves!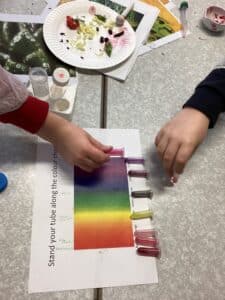 We then looked at colours in nature and compared the showy flowers on plants that brighten up temperate areas to the riot of colour seen in tropical regions. The children considered why plants would invest in such structures and thought about the co-evolution of plants and pollinators.
Discussing how plants create their colours, we then investigated in more detail the 'chemical palette' by conducting experiments to extract colours from plants. The class worked in small teams using acid and base chemistry to alter the colours to try and make as many colours in the spectrum as possible. They threw themselves into the challenge and made a wonderful array of different tones!
"I liked science best as I learned a lot that I didn't know before and we did an experiment!"

– Freya
With a competitive buzz in the air, it was tough to choose the winning team, but one table had the edge with their marvellous selection of purples and so were awarded the prize of a new pencil!
Following the science session, the class took all their new learning and vocabulary forward to use for creative writing where they wrote poetry to share their ideas and thoughts about the concepts from the science.
"I learned that you can use your imagination to make poetry".

– Aridah
They generated a wide diversity of poems and all had a chance to stand up and perform their work to the class, met with rewarding applause!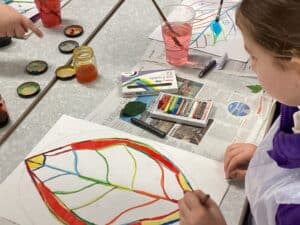 A poem by Tristan:

Bright colours, dark shades
The World is a beautiful place
Come and explore
Finally, the afternoon session extended further from the science topic into art and the class created the most colourful leaves using wax resist and Brusho. They also used ice cubes to create collaborative, real-time melt pieces that changed and morphed before their eyes!
Have a look at some of the other excellent poems written by the class HERE
We had a lovely day at Tacolneston, thanks for having us!